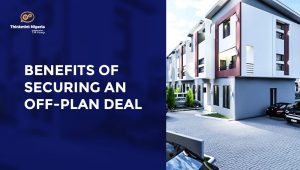 An off plan property is a viable real estate option that is offered in their development stage in a secure, flexible, and rewarding agreement.
Currently, Nigerian off-plan properties are receiving increased attention from investors. And this trend becomes instructive to any regular investor. The reason is that investors may stand to gain more when they buy in early on investment in any industry. The case is not too different for real estate.
When a property is under development, an off plan offers that property to you at a discounted price. The discount is allowed by the developer because of the risks an investor is exposed to when they purchase an uncompleted project. The discount also serves as succour to the delay the investor has to endure till they can take possession of the property.
Regardless, an uncompleted property will develop over time and as is expected when a property gets to the peak of its development cycle, its capital value will also increase. 
Here, we can find some other advantages of purchasing an off plan property:
You can earn a profit by reselling the property
After buying an off plan property at a discounted price, as you desire, you can sell the developed property and earn a profit. You can also rent out the property, generating steady revenue from it.
You can Save and Plan
Investing in an off plan deal allows you to save a lot of money in the long run. It also allows you enough time to make and implement comprehensive plans for the completed property.
It is a brand-new property
An off plan property is usually a brand-new house – albeit still in development. This gives you the opportunity to design your new house how you deem fit. You also do not have to worry about damages or wear or tear to the property by former owners or tenants.
Takes off the responsibility of building yourself
When you buy an off plan property, you take off the responsibility of having to plan and execute the building by yourself. Even for expert developers, that can be a very tasking endeavor. An off plan allows you to go to rest while the developer prepares your building for you.
However, it limits the bigger picture to narrow the benefits of an off plan deal to just capital investment. When you purchase an off plan property, you are also investing in and trusting the developer's plan. That is 
At ThinkmintNG, we help you with securing standard properties. We have accommodating plans that allow you to make installment payments for secure and serene properties across the country. You can check our list of properties here.