Buying an off-plan property can be an exciting opportunity to own a brand-new home or investment property. However, it's important to approach the process with caution and consider several factors before making a decision. In this article, we'll explore some key considerations to keep in mind when purchasing off-plan properties.
There are many advantages to buying property from a developer. You have the option of purchasing a new house fully built or buying before construction has finished. Buying off-plan property offers several distinct advantages. As a result, this form of real estate investment has become a favored option for investors across Nigeria.
Abuja and Lagos have numerous off plan property developments to choose from. The off plan market in these two cities can be considered to be very liquid, when compared to the secondary or pre owned housing market. Buying off plan can be either extremely lucrative or highly risky. It all hinges on where, what and how you do it.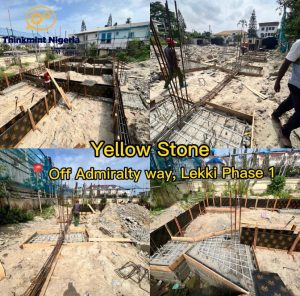 Buying off-plan: what does that mean?
Buying off plan means committing to purchasing a property before it has been completely built. Both residential and commercial real estate can be bought off plan. Often this means making a commitment from project conception i.e. from when the property is just a sketch on paper or a 3d image on computer. However, this is not always the case as an off plan property can also be one on its way to being built: maybe the foundation has just been completed or it's yet to be plastered.
The benefits of buying off plan
Lower Price
One of the significant advantages of buying an off-plan property is the potential for a lower price compared to a completed property. Developers often offer attractive discounts or incentives to buyers who purchase during the pre-construction phase. This can translate into significant savings and a chance to secure a property at a more affordable price.
Customization
With an off-plan property, you have the opportunity to customize the finishes and design according to your preferences. You can work closely with the developer to choose the flooring, fixtures, paint colors, and other elements that suit your taste. This level of customization allows you to create a home that truly reflects your style and personality.
Potential for Appreciation
Buying an off-plan property means you're investing in a property that hasn't been completed yet. As the construction progresses and the property nears completion, there's a good chance that its value will appreciate. This can be a significant advantage, especially if you plan to sell the property in the future or use it as an investment.
Key Factors to Consider Before You Buy
1. Research the Developer:
Before committing to an off-plan property, it's crucial to research the developer's reputation and track record. Look for their previous projects and assess their quality, reliability, and adherence to completion timelines. Checking online reviews and seeking recommendations from trusted sources can provide valuable insights.
2. Review the Contract:
Carefully review the contract terms, payment schedule, and completion timeline. Understand the payment structure, including any deposits, installments, and final payments. Ensure that the contract includes provisions for delays, penalties, and dispute resolution mechanisms to protect your interests.
3. Location and Future Growth:
Consider the location of the off-plan property and evaluate its potential for future growth. Look for factors such as proximity to amenities, transportation links, schools, and employment hubs. Research the local market trends and development plans to gauge the potential for capital appreciation and rental yields.
4. Financing and Affordability:
Assess your financial situation and determine if you can comfortably afford the off-plan property. Consider factors such as mortgage availability, interest rates, and the impact on your overall financial stability. It's advisable to consult with a financial advisor to evaluate your affordability and explore financing options.
5. Consult with Real Estate Professionals:
Seek guidance from real estate professionals, like Thinkmint Nigeria, we specialize in off-plan properties. We provide valuable insights into market trends, pricing, and potential risks. Our expertise can help you make an informed decision and navigate the complexities of the off-plan property market. We remain your Preferred Real Estate Marketing Partner, with the best Off Plan Projects for you to choose from. Our projects offer you below market price and Low entry values for property purchase across Nigeria, with NO Third Party Agency fees. We also conduct Physical and Virtual Inspections to aid your Decision making.
Thinkmint Nigeria remains the best plug for your land and off-plan property deals.
To schedule an inspection with an option of a pick-up or drop off, kindly contact us on 📞 +234 809 784 5065.