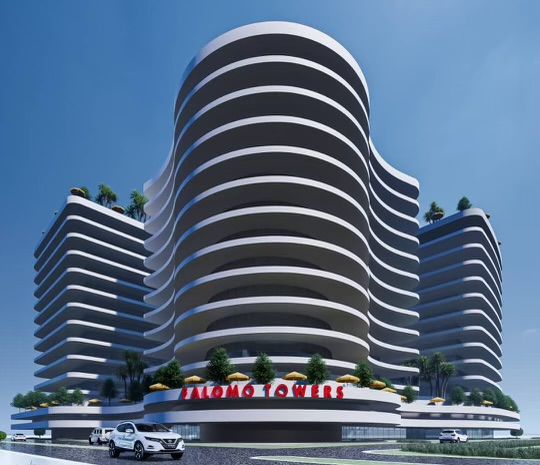 Falomo Towers is an initiative under a public-private partnership between the Afriland Properties and Lagos State Property Development Company (LSDPC) 
After 10 years of planning, the Lagos State Development and Property Corporation (LSDPC) sealed a joint redevelopment partnership with Afriland Properties Plc, a private developer and a subsidiary of Heir Holdings (owned by the foremost entrepreneur and banker, Mr. Tony Elumelu), to turn the former Falomo Shopping Complex to a premium sky-high real estate that will enhance the socio-economic outlook of the neighbourhood.
The project was repurposed into what is now being introduced as Falomo Towers.
On Friday 17th June , 2022 heralded the beginning of the construction that will change the skylines of the Ikoyi corridor as we witnessed the SOD Turning Ceremony of The Falomo Towers , Ikoyi developed by @afrilandpropertiesplc in conjunction with @lsdpcofficial.
Thinkmint Nigeria was present at the event and strongly believes that the synergy will greatly revive the well known Falomo area as the project is to be developed on an 11,950sqm land space will be delivered in 30 months.
Sanwo-Olu, at the Sod turning ceremony held at the project site, said the construction flag-off ended a decade-long discussion with the developer to revive the project and build iconic towers that would turn around the fallow land for the benefit of the public.
The Governor said the project was another milestone achieved by his administration to renew urban amenities, stressing that the strategic implementation of the Lagos Masterplan had been dependent on the Government's ability to forge workable partnership between the public and private sectors.
While Tony Elumelu, Chairman of Heirs noted that the project would be a high rise mixed use development.
…'Lagos remains most hospitable environment for investors' – Elumelu 
Christened: "Falomo Towers", many real estate practitioners are of the opinion that the iconic project would define the skyline of Ikoyi neighbourghood and entire Lagos environs when completed.
The turning of the sod marks the beginning of a practical step to turn the empty space on Obafemi Awolowo Road, near Falomo Roundabout in Ikoyi, Lagos to sky-high mixed real estate development.