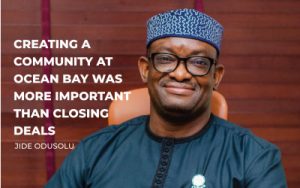 Creating a community at Ocean Bay was more important than closing deals – Jide Odusolu
Talk about a highly principled, professional, and poised mid-aged mover and shaker in the Nigerian real estate industry, Jide Odusolu fits in all. Leaving an "almost perfect job" in one of Nigeria's best oil and gas companies, Jide embraced the real estate business at 29. Today, he has executed some of the country's best projects and introduced STOW to make real estate transactions easier in Nigeria. In an interview with Real Life, Mr. Jide shares some of his best and worst experiences in his over 20 years' journey in the real estate sector. 
Looking at your academic qualifications and numerous professional achievements, what prompted you to start a real estate business?
I am a legal practitioner by background. My initial dive into entrepreneurship in 1997 was driven by an understanding of Maslow's hierarchy of needs. At the basic level of needs are human necessities, and I had three options; food business, clothing, or housing. The food business had potential, but I was not the best cook, and the clothing industry required someone with sewing skills, so I settled for real estate since I had an affinity for it.
What is the relationship between your background and what you do now?
My mother was an entrepreneur; she did real estate the traditional way. Growing up, we visited different sites where she had investments; through her, I became familiar with the basic concepts of property development. 
After being called to the Nigerian Bar in 1995, I knew I would not practice law. I incorporated Legacy Realties in 1997. When I told my mother that I had incorporated a real estate company, she could not phantom what I meant. I spoke to a few other family members and older friends, and they could not understand the business concept. They all assumed that I was going to be a real estate agent focused on property management. Since I could not communicate what I wanted to do in ways that people would understand, I decided to get a job in the corporate world to garner experience.
Shortly after, the church I was attending started setting up mission churches in East Africa, so I volunteered to be a part of the startup. During that experience, I got clarity on my business concept. I came back to Nigeria and soon got a job with Texaco Nigeria upstream. I worked in the legal department for five years and learned a lot on the job, especially negotiations and documentation. I also had a speedy rise in rank. 
What was the turning point for you at Texaco, and how did you pick up your entrepreneurship dreams? 
As an executive member of the workers' credit union, I pitched real estate investment to my colleagues. I led the acquisition of acres of land at Sangotedo and convinced them to put funds together for investment. While the plans were ongoing, there was a merger between Chevron and Texaco with a special offer allowing employees the option to resign voluntarily and get rewarded for it. I opted to resign as my retirement package was equivalent to two years. My resignation came as a shock to my colleagues and superiors that somebody as young as I was with the prospects of climbing the ladder quickly and getting to the apex was opting out. I got offered a double-promotion and other incentives to make me stay back, but that was not what I wanted. I left in the year 2000 and embarked on my entrepreneurship journey. Sadly, many of my colleagues backed out of the proposed real estate investment when I left the company. At age 29, I was on my own with an option to buy acres of land with just 10% of the required funds in hand – that project metamorphosed into our first community known as Heritage Place, Sangotedo. 
For Ocean Bay, what were your major challenges and successes?
When we started Ocean Bay, there was no road; we had limited resources; it was virgin land, and even the State did not understand what it was we were trying to do, so it took a long time to get the State's approvals, market it and sell to potential buyers. Some of the issues we faced were lack of a direct route to the site; acceptance by the community, and communicating our brand message. To deal with these issues, we had to be creative and innovative in our approach. 
Our vision for Ocean Bay was to build a community that promoted communal work-life balance. We wanted to replicate old Ikoyi living standards. It was quite unusual, and when we shared the vision of what we wanted to build on the site, it sounded crazy and impossible. People could not see our vision, so we had to look for value-driven off-takers. We made all our prospects answer personal and detailed questions to ensure that they fit into the type of community that we wanted to create. At some point, we were more concerned about the community than moving money and running a business. Ocean Bay took six years, but it happened! Today, the finished work makes us extremely proud. 
Why were you picky and particular about the people who invested in the project?
We believe the Nigerian economy is only viable when professionals thrive amidst all their hard work. Nigeria, sadly, is a large but flawed economy based on trade and graft (hustling). People routinely survive on alternative streams of income. We seek to build a system that motivates people to have a predictable income, where people live off their regular earnings. For us, this is a quest to make it possible for the majority of working professionals to achieve economic freedom through property ownership. The only way the Nigerian economy can grow is through broad ownership of assets that can be converted into tangible capital.
Can you expatiate on the concept of economic freedom through real estate?
'Economic Freedom' means making your money work for you. It focuses on investing in assets rather than liabilities. Globally, Real estate is the greatest driver of asset accumulation. Real estate appreciates in value and is relatively immune to inflation. People need to understand that real estate is a critical tool for empowerment. Our company was incorporated in 1997 and started full operation in 2001. We have been in the real estate industry for 20 years. It has never been just about making money but a quest to address housing and economic empowerment problems. When I am 70, I want to be able to drive through major cities in Nigeria and proudly say we have empowered many Nigerians by creating valuable and tangible assets. That is why we created an app called Stow to help people invest in real estate regardless of their socio-economic class.
How have you tackled the problem of trust and funding required to run a real estate company in Nigeria?
Trust comes with time and proof of competence. Investors need to see track records. They invest money and expect you to deliver returns. For the home-buying public, they want to see what you have done in the past; the services you can offer them; and why they should choose you. When the company first started, I built trust using existing relationships. With time, we grew credibility based on the projects we delivered. Today, people make payment commitments on our properties or projects without knowing where the site is located. That shows a high level of trust and credibility. Trust is a process. New entrepreneurs should not circumvent it but go through the process to build it.    
What is the biggest risk you have ever taken?            
The biggest risk was in 2000 at the start of my business. I invested everything I had in that virgin land without assurance it would succeed. The second biggest risk I have taken is rejecting an offer worth billions of Naira to buy me out of my company.
What motivated you to reject the offer?
I am an avid book junkie, and I have learned that no sustainable enterprise is built based on quick wins. Nigeria is a country made of gold, but to unlock it, one needs to break hard grounds, and taking easy offers is selling myself short when with effort, I could earn so much more. That conviction motivated me to keep going despite the challenges.
What sets you apart from other real estate companies?
Octo 5 is a vision-driven development company. We are motivated by more than just closing transactions. Our desire is for every project we create to have a purpose and an impact on the host community. That made us build Heritage Place, Ocean Bay, and other successful projects. We are passionate about transforming our communities and creating projects that make it possible for any Nigerian to own properties conveniently across the nation. 
Why did you rebrand Legacy to Octo 5?
We are a progressive company, we did a lot of brand-work, discovered that 'Legacy' had become a generic name, so we decided to rebrand. We have five (5) companies in our group and a multidimensional approach to real estate. Hence, the word 'Octo' represents the five dimensions or spheres our company operates in.
What is the next big surprise from your company?
We recently unveiled our big surprise. It is called STOW, a digital platform that makes it possible for anyone to invest in Nigerian real estate. The app helps people source available projects that they can invest in with payment flexibility for five years. The beauty of STOW is that the minute you sign up and register, you lock in, the rates do not change. Prices are fixed, and the application allows people to trade their properties. 
What is the most interesting thing about you?
I am spontaneous; and difficult to contain in a box. I evolve quickly and respond to situations because I adapt quickly. It puts so much pressure on people who work with me because I can be very calculating. My instinct is always to come up with solutions in any situation. 
What entrepreneurship lessons can upcoming developers learn from you?
To stand the test of time, you must have a unique identity and be able to create a captivating value proposition.